Skill Levels Required:
Quests Required:
None.
Items Needed:
None.
Directions:
Persons:
Monsters:
None.
Respawns:
None.
Quests Available in the Guild:
None.
Guild Map: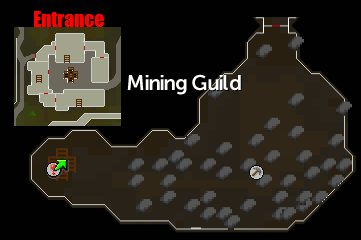 Tour:
Entrance:
Climb down the ladders to enter the guild and climb up to exit it. The guild can also be accessed through the gate in the southern part of the
Dwarven Mines
. Wandering around the entrance you will find the
Mining Master
, a dwarf from whom you may purchase the Mining cape when you have reached level 99 in
Mining
.
Note:
The Stouts are not required on the way out. You may leave the guild no matter what your level is.
Mining Rocks:
Scattered throughout the guild, you will find 37
Coal
rocks. Towards the southeastern corner of the guild, as shown in the map, you will also find 5
Mithril
rocks.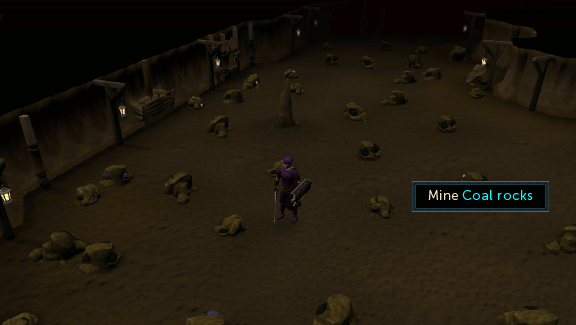 Dungeoneering Resource Dungeon:
If you have 45
Dungeoneering
, you can enter the resource dungeon. There are 8 Mithril rocks, 4 Adamantite rocks, and 3 Runite rocks in it.
This Guild Guide was written by Darkwiz, Rohan, and Alfawarlord. Thanks to Alk12, LogGamer, Evilishies, Fudge, watsermetjou, Electroshock, and cobalta for corrections.
This Guild Guide was entered into the database on Mon, Mar 15, 2004, at 08:22:29 PM by Fudge, and it was last updated on Fri, Jul 13, 2012, at 04:22:16 PM by Greg.
If you see this guide on any other site, please report it to us so we can take legal action against anyone found stealing our content. This guide is copyrighted by RuneHQ, and its use on other sites is expressly forbidden. Do not ask if you can use our guides or images, the answer is and always will be NO!
Print this page with images - Back to Previous Page - Back to the Guild Guide Index Page - Back to Top