Skill Levels Required:
None.
Quests Required:
Items Needed:
None.
Directions:
Persons:
Monsters:
Respawns:
None.
Quests Available in the Guild:
None.
Guild Map:
Tour:
Congratulations, you've beaten the "Heroes' Quest" and are ready to enter the Heroes' Guild. Welcome to the Heroes' Guild!
First Floor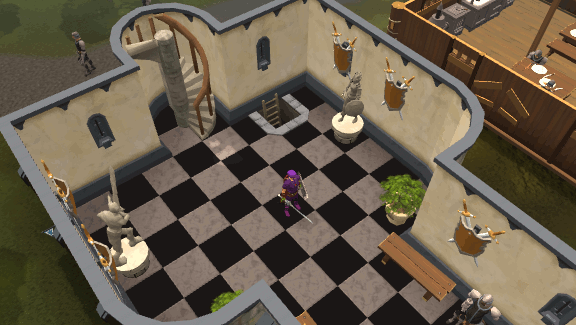 There isn't much on the first floor. There are stairs leading to the second and third floors, and a ladder leading to the basement.
Second Floor


There is a shop, owned by Helemos. You can buy 2 Dragon weapons: the Dragon battleaxe and the Dragon mace. Another feature on the second floor is an altar to recharge your Prayer. It can be very useful when fighting the Blue dragon downstairs with melee combat.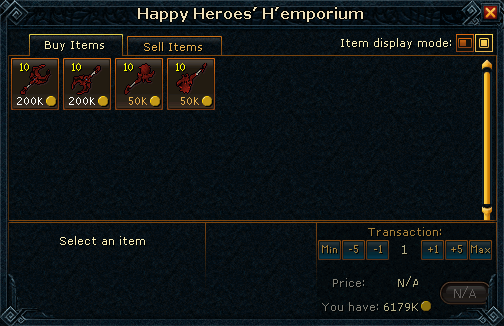 Third Floor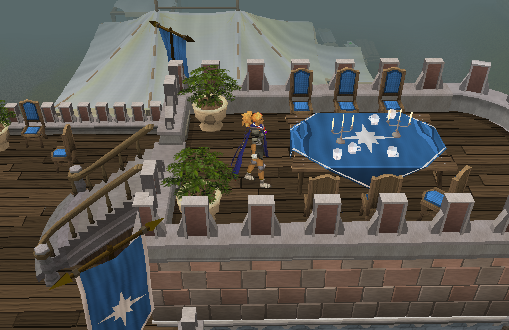 There isn't much on the third floor, only a banquet table and chairs.
Basement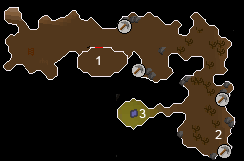 Immediately when entering, you are confronted with vicious level 27 Giant bats.
If you head forward a little bit, you will see a cage with a Blue dragon. There are three safe spots inside the cage and one outside the gate to safely mage, range, or use a halberd.




The Heroes' Guild basement is extremely good for mining. It contains coal, adamantite, mithril, and two runite rocks. The runite rocks are at the most southern point of the basement. Next to these is a mini-obelisk, used to replenish your Summoning points.


The Fountain of Heroes is the final step on this tour. This fountain will recharge your Amulets of glory and Rings of wealth to their full 4 charges and also boosts your character's chance of randomly receiving a gem whilst mining.


This Guild Guide was written by Brenden. Thanks to Fudge, Thunderdog, Star Sage0, bubble edie, DRAVAN, mobscene14, ultima cat, berkbria, Darkwiz, Dea-Proximo, Eliminat0r93, Fireball0236, watsermetjou, Alfawarlord and Gagan for corrections.
This Guild Guide was entered into the database on Mon, Mar 15, 2004, at 02:16:41 PM by DRAVAN, and it was last updated on Mon, Jun 11, 2012, at 12:10:27 AM by Brandon.
If you see this guide on any other site, please report it to us so we can take legal action against anyone found stealing our content. This guide is copyrighted by RuneHQ, and its use on other sites is expressly forbidden. Do not ask if you can use our guides or images, the answer is and always will be NO!
Print this page with images - Back to Previous Page - Back to the Guild Guide Index Page - Back to Top