Skill Levels Required:
Quests Required:
None.
Items Needed:
None.
Directions:
Persons:
Monsters:
None.
Respawns:
Quests Available in the Guild:
Guild Map: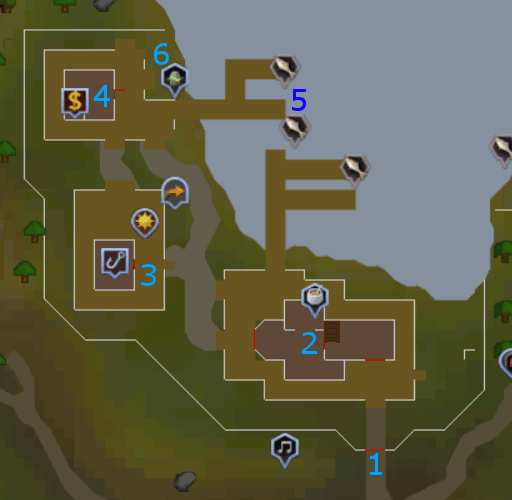 Tour:
The Entrance



There are a number of ways for you to get to the Fishing guild. You can walk to it, use a Skills necklace to teleport directly to the Fishing guild, and those who have completed Lunar Diplomacy will be able to teleport to the Fishing guild if they have 89 magic.

Upon first walking into the guild you are greeted by the Master fisher. In this entry way there are only a couple things. You have your range and basic fishing gear; a Harpoon, a Big fishing net, and a Lobster pot.





Fishing Guild Shop



The Fishing Guild Shop is ran by Roachey. You can sell most raw and cooked fish to it. Fishing bait andFeathers are also sold here.





The Bank



Here we have the always useful bank. Run over here when you obtain a full load of fish and wish to bank them.





The Docks



We have two docks in the Fishing Guild. Both of these docks contain fishing spots for Lobster, Swordfish, Tuna, and Sharks.

On these two docks there are approximately eight Lobster, Swordfish, and Tuna fishing spots and six Shark fishing spots.





The Fishing Skillcape



Those extremely skilled fishers who have reached level 99 have one more option here. You are able to go and talk to the Master Fisher, and if you wish to, pay 99k to receive a prized skill cape. The skill cape is a symbol of recognition among all players that you have put in the effort to get yourself to 99 fishing.





Fisherman's Wife



Here you can find the Fisherman's Wife. You can find out the time till the next game of Fish Flingers, cash in your tokens and medals for rewards, as well has request a copy of your competition history by talking to the Fisherman's Wife. When a game is about to start or has ended a Fisherman will teleport to the stand





Musician



Resting near the musician will restore your run energy faster than resting normally, as well as restoring your life points gradually.




I hope you have enjoyed this guide and it has helped you on your adventures throughout the Fishing Guild!
This Guild Guide was written by trekkie. Thanks to Brenden, Alfawarlord, Clamball, Jakesterwars, Taavi, Crypto416, Drizzt_Do_Urden, Mimz, read639, and Gagan for corrections.
This Guild Guide was entered into the database on Fri, Apr 16, 2004, at 06:54:13 PM by stormer, and it was last updated on Wed, Jun 15, 2011, at 05:13:37 PM by Greg.
If you see this guide on any other site, please report it to us so we can take legal action against anyone found stealing our content. This guide is copyrighted by RuneHQ, and its use on other sites is expressly forbidden. Do not ask if you can use our guides or images, the answer is and always will be NO!
Print this page with images - Back to Previous Page - Back to the Guild Guide Index Page - Back to Top