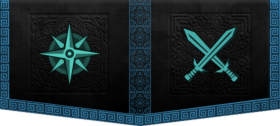 |F-I-F|FIGHT IN FEAR PVM CLAN|
I got 99 problems but a boss aint one.
Hey there! If you're looking for a friendly, chilled out PvM Clan, then you have came to the right place!
We are a 190+ non-strict PvM Clan. Non-strict meaning that we are not like other PvM clans where you are required to attend events! Here at F-I-F you are not required to attend any of our daily boss events so you can choose when and where you want to go boss hunting at any time! (The only event that is mandatory is that you collect a certain amount of resources in the clan citadel each week!)
We currently do every boss event on Runescape.
Our daily event takes place in the evening of UK timezones (7pm uk time usually) however, on the weekend we do events to fit the needs of our non-european players
#So to sum that all up :
- If you want to make new friends and be warmly welcomed into a friendly environment...
- If you want daily events which you are not required to attend...
- If you want to be able to boss whenever you want...
- If you want events to be suited to a UK/European time zone...
Then Apply Today.
General Clan Information:
Current Clan Size: 150+
Homeworld: 71
Clan Channel: "Fight In Fear"
Citadel Tier: 6
We host daily events (Official clan event in the evening.)
Our timezone is based in UK/Europe.
The week day official event will be around 7pm UK time
Sunday evenings we do not have an official PvM event. A Citadel event takes place where members gather the resources together.
Official events usually are hosted by me or an Admin. Other members are more than welcome to host other boss trips throughout the day.
Website:
www.fifrsclan.co.uk
Official RS Quick Find Code: 92-93-402-63190569
Direct link to it is:
http://services.rune...93,402,63190569
Events we do:
~ Bandos Godwars ~
~ Zamorak Godwars ~
~ Saradomin Godwars ~
~ Armadyl Godwars ~
~ Corporeal Beast ~
~ King Black Dragon ~
~ Daggonath Kings ~
~ Dungeoneering Floors ~
~ Tormented Demons ~
~ Nex Godwars ~
High Ranking members:
- Founder: F-I-F Fuller
- Leader: F-I-F Fuller
- Co-Leader: N/A
- Overseer: F-I-F Neo
- Coordinators: F-I-F Anos | F-I-F Phobia | | F-I-F Omg
- Organisors: DrMckinky | Macleran F3
- Admins: Teolite | F-I-F Matt | SavageMaul
- Generals: DaTurkHunter| F-I-F Nan | F-I-F Aedra | Rane53
How do I join?!
To join please fill out an application on our official Runescape Recruitment Thread @
Direct link to it is:
http://services.rune...93,402,63190569
Edited by Fuller, 05 December 2012 - 04:45 AM.